A recent study caught my eye this week.
It was a survey of transport managers, and their attitudes toward driver behaviour.
There were some interesting findings. Foremost among them: 1 in 4 wagoners are breaching drivers hours guidelines by failing to take adequate rest breaks.
That is to say, a quarter of the TMs surveyed said their drivers, on average, take breaks only after 5 hours or more.
Is this down to rogue drivers flying in the face of all that's holy; or fleet managers and forwarders planning unholy schedules?
Well, anyone who read the article on the HGV driver who had to go use a bucket for a toilet in order to remain within the law, may be inclined toward the latter view.
After all, 66% of respondents said they had systems in place to aid drivers in taking lawful breaks. Up until now, those systems may not have counted for much when up against the pressures of the supply chain's demand for efficiency. Let's face it: when it comes to a choice between the chance of a slap on the wrist from the DVSA, and risking your job by failing to make a delivery - historically, for many, that's been no choice at all.
When you consider, however, the DVSA's new fixed penalty system, and even more significantly, their Earned Recognition scheme, that chance of wrist-slap becomes a certainty, and the slap itself becomes a bone-breaking arm-bar.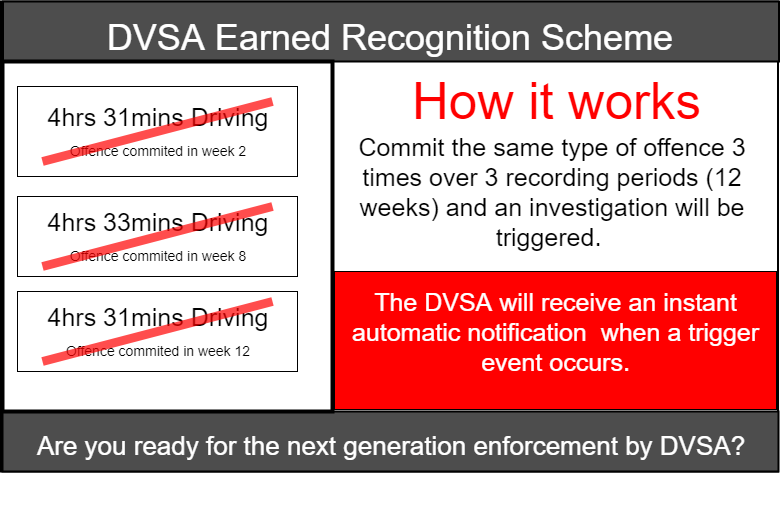 Why is that? Well, if you're working for a firm whose drivers' hours infringement KPIs are in the red, or, just as bad, if your firm isn't even part of the scheme, you'll be targeted for roadside inspections at a frequency that'll make your eyes water.
In any case, once Earned Recognition's in full swing, I anticipate that figure of 25% will start to drop. Compliance, from this point on, is not the luxury some have become used to viewing it as, but a simple matter of survival - regardless of fleet size or reputation.
Anyway, that'll be all from me this week. If you're interested in seeing more statistics from the survey, conducted by Verizon Connect, you can get them here.
If you're after more information on this major game-changer called Earned Recognition, you're far from alone. Possibly the best place to start would be our upcoming webinar. These aren't just any webinars, they are open forum-style sessions during which you can get your questions answered there and then.
The person who'll be answering the questions is Chris Allen, who's studied the Earned Recognition scheme inside and out. Anyone familiar with Chris's work will know: there's no better man to explain what the scheme means for drivers.
Get on it without delay: