There's been an unusual move on the part of the Traffic Commissioners.
Unusual, at least, in our experience.
They've decided to give LGV drivers some handy information.
In fact, handy is probably an understatement. For many of us, this information is invaluable.
In an email to their subscribers, they revealed some interesting things - and if you're a driver, you'll want to hear about them.
The email regards driver conduct. More specifically, how the TC deals with it.
They published a table of 'starting points'. They use these starting points as a basis for tackling certain issues of driver conduct.
This helps them remain consistent and objective. It also helps them to achieve tone of their main goals - to consider the entirety of a driver's history of conduct, and not just the offence or issue that's been reported.
To consider the offence as part of the whole, in other words. This provides a real-life perspective when it comes to what, if any, penalty should be implemented.
Anyway, here's the table.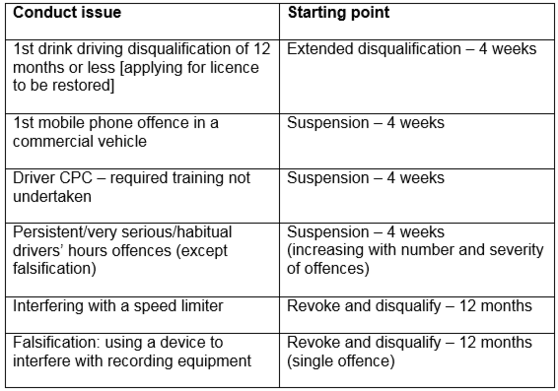 Using tech in the cab is a red-hot issue at the moment. The authorities have been clamping down on mobile phone offenders with an increased regularity - and given some of the accidents of late, few can blame them.
The other big one (and I see this failing first-hand, almost daily) is in relation to the CPC. Amazingly, many TMs still aren't all that concerned about pushing their drivers through the required training in the run-up to the deadline.
(It's important to remember that while the deadline is the deadline, in practical terms - training centres UK-wide will be booked up months in advance. For some hauliers, however, it's still a secondary concern. If that.)
Anyway, that's enough for the time being. I'll leave you to enjoy your weekend.
If you're interested in the full range of the TC's information, you can get it on their website.
Chris Allen will be talking about this in his upcoming webinars. Climb aboard, and get your questions in early.