As most of you will be aware, the DVSA's new fixed penalty laws came into play on Monday 5th March.
Already, questions have come in by the tonne. Both drivers and TMs want to know what the crack is and what it is not.
We've even had complaints from drivers who've had a run-in with police officers or enforcement agents. A few have been charged, shall we say, spurious penalties.
It appears the DVSA has been sending its people out with the battle-cry 'go forth, and fine widely'. However, from our own recent experience, we surmise that drivers are not totally up-to-snuff on the new laws. Even more worryingly, however, the enforcers themselves (in at least a few cases) seem likewise bamboozled.
A handful of drivers have come to us after being 'fined for nothing'. In one case, a driver was handed a £300 fine for a non-existant breach. Our forensic analyses of his tachographs confirmed this.
Of course, we're still in the transition stage. Things will smooth out over time (they must). However, there are things you need to know and know but quick if you want to keep marked vehicles away from your exhaust pipe.
How much can I be fined?
The introduction of historic drivers' hours offences has got the industry on the back-foot. Now, if a driver is pulled over, they can be fined for up to five offences committed within the past 28 days. The fine for a single offence is fixed between £50 and £300. Hence, the horror: the £1,500 fine for a single stop.
Does the fine affect only the driver?
Nope – besides the driver's own licence, the TM's repute and the operator's licence can also be impacted. Depending on the severity of the offence(s), the business may have to shell out coin to correct the situation in a manner that satisfies the TC or other relevant authority.
Not only this, but any fixed penalty charged against a driver can be noted on the operator's OCRS score. This score, we all know, is used by the DVSA as a way to determine an operator's current level of compliance. Therefore, these new DVSA fines can have a serious effect on an entire operation.
So I get fined – then what do I need to do?
First thing's first. You need to tell your TM as soon as possible. The TM needs to know immediately if a fixed penalty notice has been charged against their driver. The driver shouldn't accept a fixed penalty notice until they've notified their TM of the situation – and they have given the go-ahead.
Can I reject a notice?
You can – once you're fined, you have 28 days to decide whether to accept or contest the penalty.
If you decline the offer of a fixed penalty, you may be summoned to court by the TC. During the hearing, you'll have the opportunity to argue against the reasons for the penalty and/or push for a lower penalty.
Bear this in mind, though: if you're found guilty, the fine and costs accrued will likely be greater than the sum of the initial penalty notice.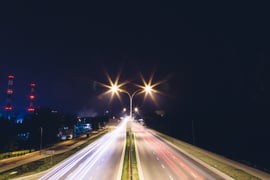 How do DVSA fines impact an operation?
Employing drivers' hours offenders is risky for operators. Any charge levelled at a driver could likewise tarnish the firm they're running for. If one or more drivers consistently flout the law, or if a severe breach is made, an operator could be called to public inquiry.
At said inquiry, the operator will likely have to explain how their systems enabled the offences to occur/continue.
And again, any DVSA fines handed out to commercial drivers will go down as a black mark on the OCRS of the operator they work for.
If the fixed penalties have already been accepted, the operator will be limited in terms of defence, and will be restricted in what they can talk about during the inquiry.
And have one more for the road...
So, I get fined, what can happen to me?
Fixed penalties hold water in the same way as convictions before a court. If someone's convicted of drivers' hours abuses, they could be collared by the TC. This would lead to a hearing, during which the Powers That Be will decide whether to take action against the offender's vocational driving licence.
A suspension could follow. The suspension could be as short as a few days; it could be as long as a few weeks. In any case, it's nothing that'll lift the spirit.
So, there you are: 6 of the most important points about the new DVSA fines structure.
I don't know about you, but these new fixed penalty laws, and a few other things going on in road freight at the minute, are giving me the jitters.
If you ask me, though, more and more drivers are concerned about keeping themselves right – and with good reason. Staying ahead of the game is getting trickier, and the penalties for falling behind are getting harsher. But I'm rehashing boiled meat.
Here's one positive step you can take right now – brush up on your drivers' hours know-how. It's like my old man said: there's no such thing as paranoia. Knowledge is power in this kingdom of confusion. Make sure you're armed with our quick, easy, online drivers' hours courses:
Oh, and one more thing before I leave you alone.
Chartwise are doing a thing: book onto one of our CPC courses and get put into a prize draw for 2 free tickets to see Newcastle United, Sunderland or Middlesborough (your team, your choice*). Football fan? Then get the scoop before the offer expires:
*Ts&Cs apply, obviously.